Preserved 150-year old elms – a symbol of sustainability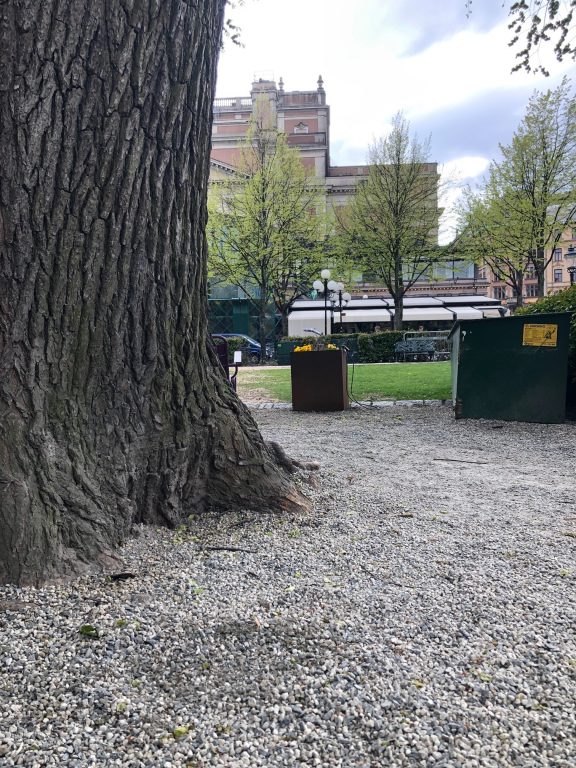 In Stockholm, the elms in Kungsträdgården has aroused strong emotions since the 1970s. The trees, which were planted in 1860, frame Stockholm's most famous park in the city environment: Kungsträdgården. Restored root systems and new plant beds was the solution to long-term conservation of the trees, and a mix of Citykross and biochar was chosen. The choice of substrate supplier fell on Hasselfors Garden, a part of Kekkilä-BVB Landscaping and Recycling.
The elms in Kungsträdgården is a very special project. Planted in the 1860s, the elms form part of the city's green park life, a vibrant oasis for people who want to socialize, exercise or enjoy. When the municipality in the 1970s wanted to make a metro rise in the middle of the park, violent protests from the public led to police ravages, a drawn-out brawl that led to the elves being saved. Some years ago, it was time again, the elms were sick and voices were raised for them to be dropped. But for the public, the elms are a beautiful reminder of how the present meets the past, of how important it is to have natural greenery in the urban environment and how restoration is a symbol of sustainability.
The client Stockholm City commissioned Hasselfors Garden to deliver CityKross which is a growing media consisting of macadam, biochar, compost and manure. In the project, Hasselfors Garden was the sole user of Stockholm City's own biochar from the city's facility in Högdalen. Biochar mixed with macadam has many environmental benefits and the substrate was delivered close by due to 20 production sites in Sweden.
– The advantage of being part of Kekkilä-BVB Landscaping and Recycling is that Hasselfors Garden has more than 20 production facilities across the country. Our customers always receive high quality cultivation substrates, no matter where the project is. In this way, we can also avoid long transports, says Theodor Odgaard, at Hasselfors Garden.
The benefits of CityKross mixed with biochar are that substrate becomes porous so that the roots get a lot of oxygen. Biochar also holds nutrition and water very well, in urban environments it is also an excellent material for bonding heavy metals.
– The City of Stockholm wanted to do a root mapping, which was a good opportunity to also give the elms a new plant bed. For Hasselfors Garden, the project is unique, the trees grew crowded and they lean, it was difficult and time-consuming but at the same time very interesting, says Theodor Odgaard, at Hasselfors Garden.
In 2019, the work with the elms in Kungsträdgården was completed.
Information about CityKross (SWE).
Information about Citykross or Biochar or information in english, please contact Theodor Odgaard.
Louise Harvig Olsmar