Sustainability made transparent
More and more customers ask us how sustainable our products are. For us, it is important to be transparent about the sustainability performance of our raw materials and products. To answer the questions in a consistent way we have developed the Future Fit Framework including a wide range of relevant environmental, social, and business aspects within the value chain. The framework has been developed through an iterative process, involving external consultants and stakeholders as well as our internal specialists to ensure usability, relevance, and a holistic approach.
The global demand for growing media is multiplying, and all those working in the green sector need to understand the overall sustainability of materials. Each material has its pros and cons and understanding these and the sustainability aspects associated with each material is essential to choosing the most suitable and sustainable raw materials. Because we want to enable our customers to be future-proof, we need to know which raw materials to focus on and which types of products to develop.
A holistic assessment tool
Our customers expect high-quality products from us and that is what we want to offer them. That's why we have developed the Future Fit Framework to help us assess the sustainability of our products and the raw materials we use in them. Starting from being fit for purpose we have to consider several different aspects related to whether or not a raw material or a product is sustainable. Ideally, the final solution is a local, climate-resilient, circular, nature-positive, and water-conservative substrate that contributes to the health and well-being of a fair society. In the illustration, we present the key aspects behind the Future Fit Framework are addressed.
A solid basis for decision-making
The Future Fit Framework can play a significant role in decision-making by identifying the risks and opportunities of each raw material. Following the score of the raw material, mitigation measures can be initiated or opportunities pursued. The framework can be used to find the optimal performance (fit for purpose) of our substrates with the best possible sustainability score. It can be used to compare different recipes. Our R&D department uses it to quickly assess new raw materials to understand their suitability for future solutions. When the initial evaluation gives a positive result, a more thorough review is carried out with sourcing to confirm the physical, biological and chemical properties.
New approach 2022
The Future Fit Framework was introduced in 2022 and we aim to use it for all our new raw materials. At the same time, the framework will be part of our product development process. All new raw materials that are tested for their physical, chemical, and biological properties should be assessed against the framework to ensure the most suitable and responsible products for our customers.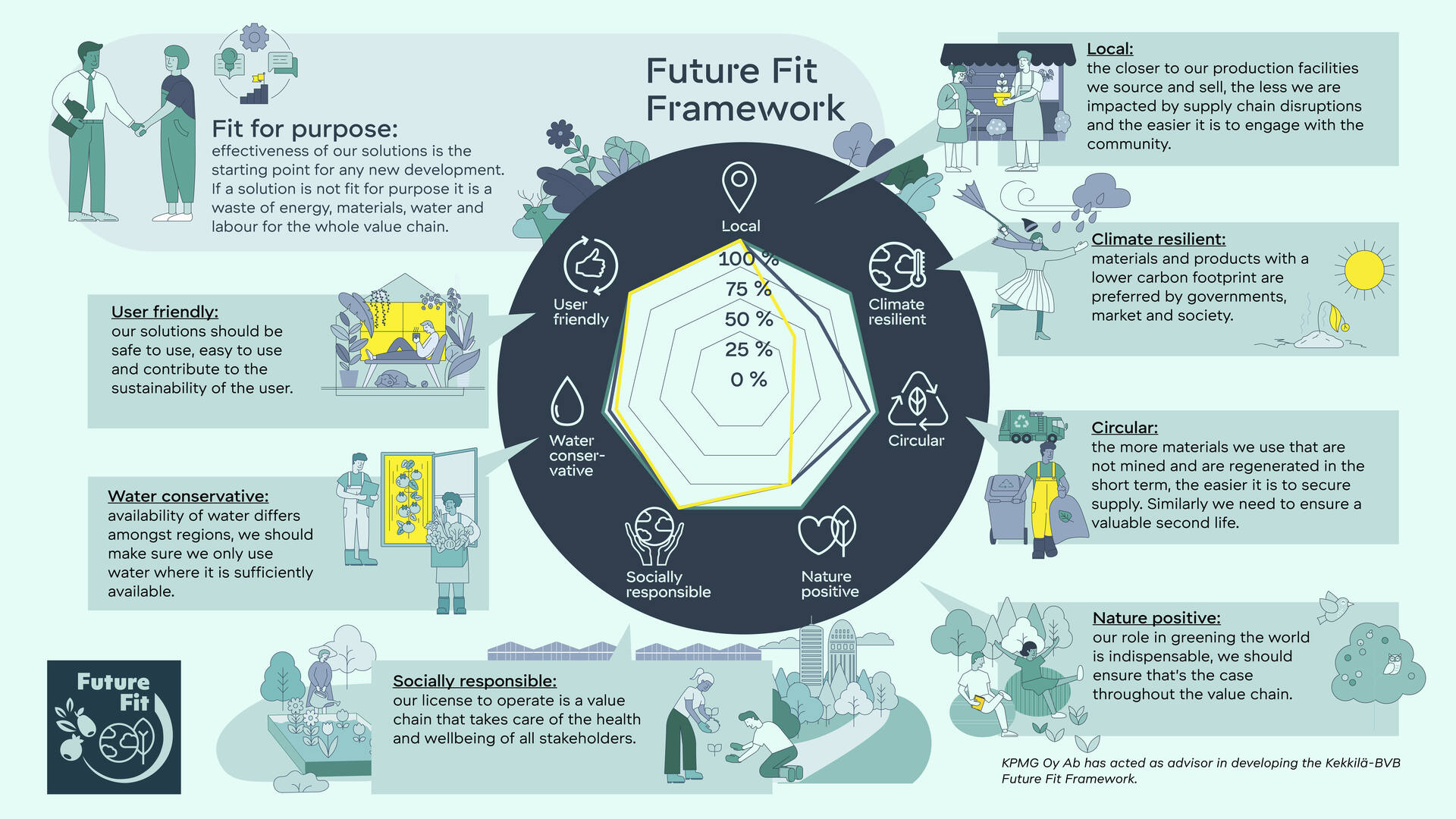 Want to know more about the Future Fit Framework?
Fit for purpose: effectiveness of our solutions is the starting point for any new development. If a solution is not fit for purpose it is a waste of energy, materials, water and labour for the whole value chain.
​​​​​​​​​​​​​​Local: the closer to our production facilities we source and sell, the less we are impacted by supply chain disruptions and the easier it is to engage with the community.
Climate resilient: materials and products with a lower carbon footprint are preferred by governments, market and society.
Circular: the more materials we use that are not mined and are regenerated in the short term, the easier it is to secure supply. Similarly we need to ensure a valuable second life.
Nature positive: our role in greening the world is indispensable, we should ensure that's the case throughout the value chain.
Socially responsible: our license to operate is a value chain that takes care of the health and wellbeing of all stakeholders​​​​​​​.
Water conservative: availability of water differs amongst regions, we should make sure we only use water where it is sufficiently available.
User friendly: our solutions should be safe to use, easy to use and contribute to the sustainability of the user.
Sustainable packaging: all of the above applies to our packaging as well.