Groei met ons mee – Open dag 26 juni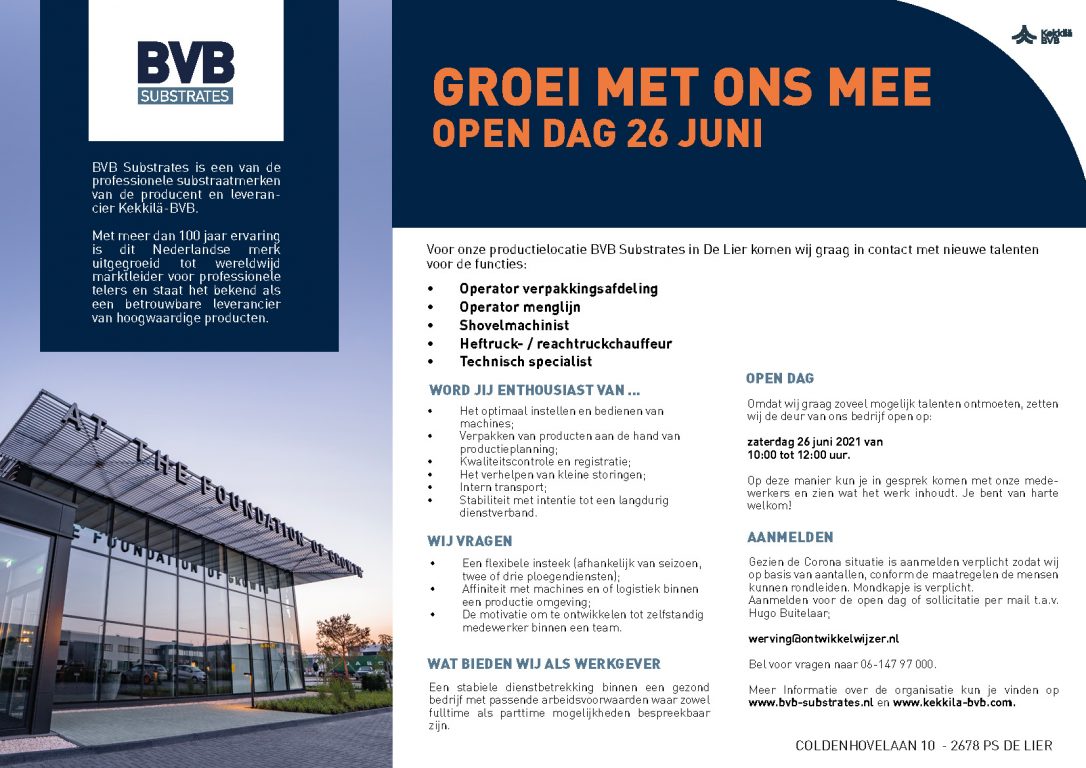 Voor onze productielocatie BVB Substrates in De Lier komen wij graag in contact met nieuwe talenten voor de functies:
• Operator verpakkingsafdeling
• Operator menglijn
• Shovelmachinist
• Heftruck- / reachtruckchauffeur
• Technisch specialist
WORD JIJ ENTHOUSIAST VAN …
• Het optimaal instellen en bedienen van machines; • Verpakken van producten aan de hand van productieplanning; • Kwaliteitscontrole en registratie; • Het verhelpen van kleine storingen; • Intern transport; • Stabiliteit met intentie tot een langdurig dienstverband.
WIJ VRAGEN
• Een flexibele insteek (afhankelijk van seizoen, twee of drie ploegendiensten); • Affiniteit met machines en of logistiek binnen een productie omgeving; • De motivatie om te ontwikkelen tot zelfstandig medewerker binnen een team.
WAT BIEDEN WIJ ALS WERKGEVER
Een stabiele dienstbetrekking binnen een gezond bedrijf met passende arbeidsvoorwaarden waar zowel fulltime als parttime mogelijkheden bespreekbaar zijn.
OPEN DAG
Omdat wij graag zoveel mogelijk talenten ontmoeten, zetten wij de deur van ons bedrijf open op: zaterdag 26 juni 2021 van 10:00 tot 12:00 uur. Op deze manier kun je in gesprek komen met onze mede- werkers en zien wat het werk inhoudt. Je bent van harte welkom!
AANMELDEN
Gezien de Corona situatie is aanmelden verplicht zodat wij op basis van aantallen, conform de maatregelen de mensen kunnen rondleiden. Mondkapje is verplicht. Aanmelden voor de open dag of sollicitatie per mail t.a.v. Hugo Buitelaar;
werving@ontwikkelwijzer.nl Bel voor vragen naar 06-147 97 000.
Meer Informatie over de organisatie kun je vinden op www.bvb-substrates.nl en www.kekkila-bvb.com.