Greener urban environment through circular economy
Meadows and nutrient recycling increase the diversity of the built environment above and below ground
The debate around nutrient recycling in Finland often focuses heavily on the countryside and agricultural recycled fertilizers. However, the nutrients recycled in the growing media also end up back in the built environment. As more and more natural meadows or green roofs are added to cities, biodiversity will also increase.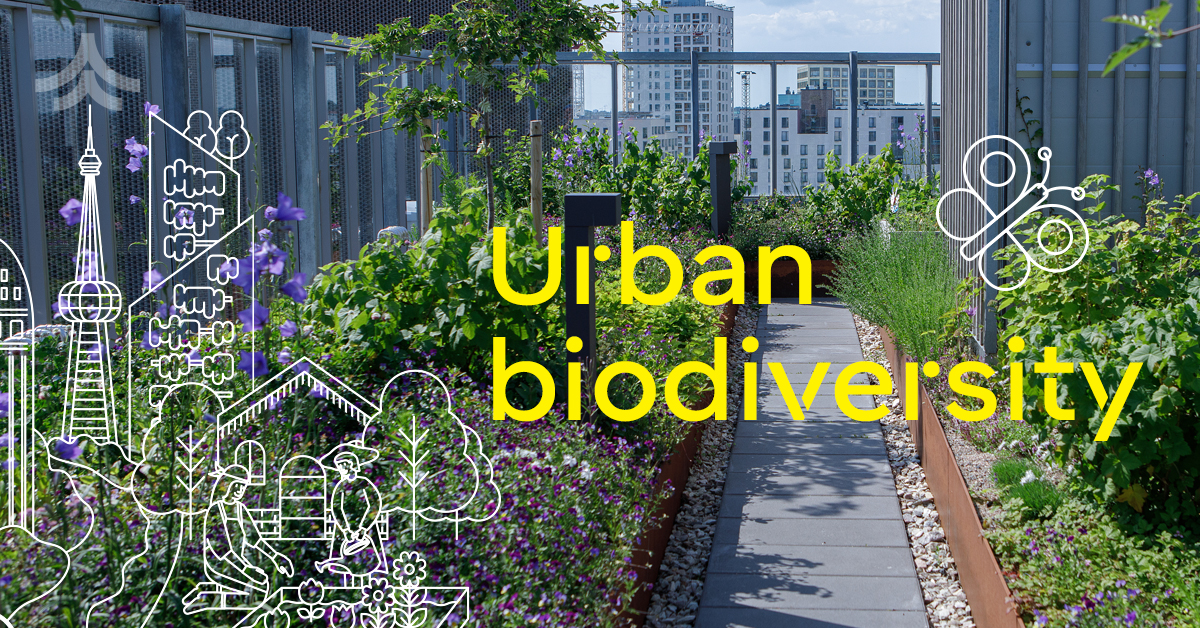 Helsinki sees many opportunities for meadows
All traditional biotopes have been assessed as endangered according to the Finnish Environment Institute's endangered habitat assessment in 2018. Areas, fresh meadows, lake and riverside meadows, among others, were assessed as extremely endangered. The urban meadow area provides important ecosystem services, and plays an important role, not only as a habitat for endangered plants but also as a habitat for pollinators, other insects, birds and mammals. In addition, the meadow is used for recreational use, as part of stormwater management and creates landscape aesthetics. In many places, meadows are also part of an important cultural landscape.
In Finland, many cities have included urban greening and especially meadows in the park areas as part of their goals. In Helsinki, for example, projects have been implemented to establish urban meadows. In the "OmaStadi" project, city residents can vote for development sites in the city themselves, and in 2019-2020, residents wanted to allocate city funds to turn park lawns into meadows with the goal of increasing biodiversity and carbon sinks in the city. Ten different park sites were selected for the project, where new meadow areas were established from different starting points.
The city has also begun to add and restore meadows to the landscape in other open areas, where either wilderness zones have been formed as a result of construction or old meadow areas have been buffered. The aim is to take the meadows into account already at the construction planning stage. The city's meadows have been surveyed and the care work is guided by the city's Detailed Nature Management work instructions "Meadows and landscape fields". In addition to increasing carbon sinks and preserving natural values, the benefits of meadow projects also include the cost savings created by meadows that require lighter maintenance. In the coastal areas, meadows may in the future be able to limit the increase in the goose population, which has caused problems in the city.
In Helsinki, meadows are also being designed and built more actively in the private sector than before, and designers can see opportunities for meadow sites in their work, even where previously the only alternative was traditional roofing, stone or asphalt. Today, you can see thriving meadows on the roofs of buildings in different parts of Helsinki. The design already considers the usability of meadows from very small sites to large entities.
The importance of meadows in urban greenery has also been recognized in Kekkilä-BVB's operations, and different types of meadows already have their own growing media to meet the growing media environment requirements of the biodiversity site.
Increasing diversity and circular economy solutions are at the heart of landscaping growth media
Utilization of recycled raw materials plays a key role in Kekkilä's growing media production and in Finland Kekkilä-BVB is a strong player in the circular economy.  In a changing world, large megatrends are also driving growing media production. Among other things, climate change, digitalisation, the requirement for a sustainable product life cycle and urbanization will dramatically increase the cultivation in growing media over the next 30 years, which will significantly increase the need for growing media production. Traditional growing media materials will retain their position, but the use of renewable raw materials such as compost, for example, is expected to increase fivefold. In addition to existing materials, new raw materials will still be needed, which BU Landscaping & Recycling is actively exploring.
The changes in Kekkilä-BVB's operations are already visible, for example, in an effort to further increase the use of recycled materials and nutrients. Compost will continue to play a significant role, but there is also a desire to increase the share of industrial by-products. The goal is to increase the share of recycled materials from the current thirty percent to forty percent in landscaping growing media production by the end of 2022. Ninety percent of the nutrients used are already recycled.
Compost not only fertilizes the growing medium, but also adds organic matter important to microorganisms, plants and fungi to the growing medium. Organic matter improves water retention and flow, acts as a nutrient store and reduces nutrient leaching, as well as improves soil structure.
From a nutrient recycling perspective, whether it was the construction of new meadows, or more traditional park construction and grasslands, landscaping is a route for recycled nutrients back to urban environments.
CASE HELSINKI: Plant roofs on Capella Park Park
VRJ Länsi-Suomi Oy has implemented a diverse plant roof for an apartment building company in Helsinki. The site consists of two residential buildings, the roofs of which were supplied with Kekkilä's compost-fertilized roof garden soil. The project was designed by the landscape architectural firm LOCI.
"Until a couple of years ago, this was an exceptional destination," Henrik Bos from VRJ says. He is very pleased with the target and calls for an open-minded attitude towards the implementation of green roofs. "The destination is a bold direction to increase the diversity of urban green. Meadow-like vegetation also attracts pollinators".
This article by Petra Salonen and Hanna Rummukainen was originally published in Grow Magazine.
Kekkilä-BVB offers landscaping services in Finland, Sweden and Benelux:
Kekkilä's recycling services (FI)      Kekkilä Landscaping (FI)    Hasselfors garden Landscaping (SE)    BVB Landscaping (NL)