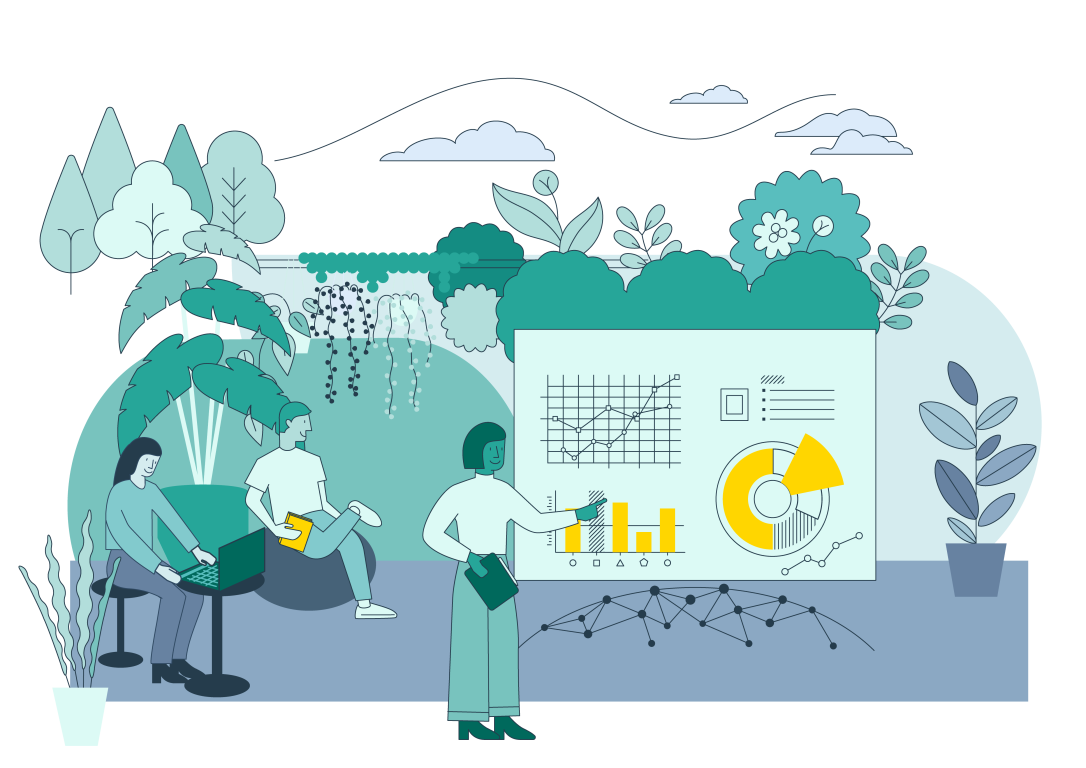 Sustainability Compass
A transparent method for sustainability in substrates and growing media. Leading the way in assessing sustainability with a clear framework for substrates and other growing media products and innovations as guide towards a more sustainable future of the sector.
Transparent Sustainability Assessment Framework
As global demand for growing media grows, understanding the sustainability is crucial. Our sustainability framework for horticulture ensures to consider the several aspects to assess a product or raw material's fit for purpose. It guides us on the way to a greener and more sustainable future for the sector. That is why we called it the Sustainability Compass.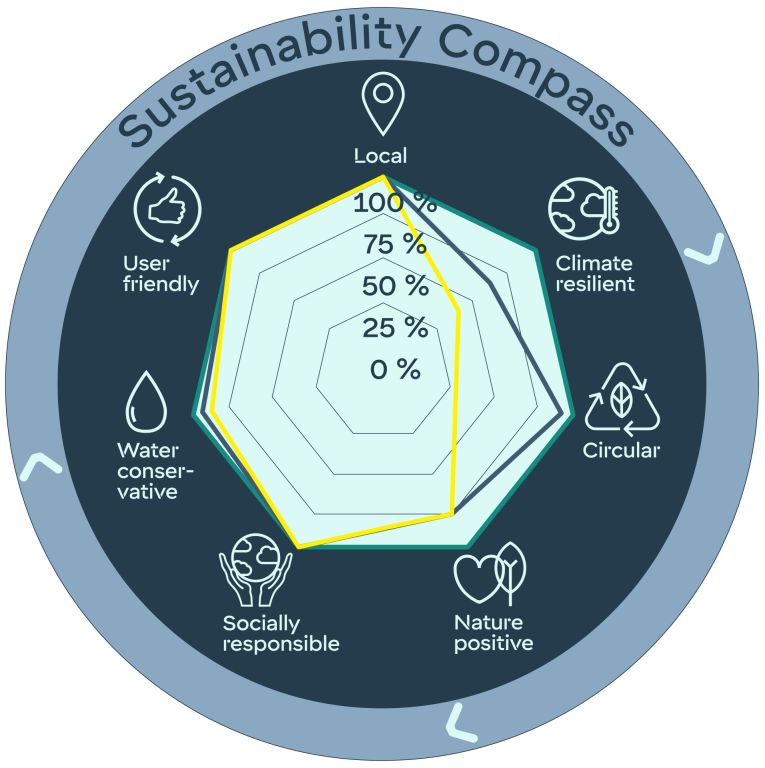 It includes impact on the environment, society, and business. This framework is embedded into our processes for product development and innovation, to make informed decisions that benefit everyone. By sharing it we lead the way towards a consistent and transparent method for reporting and assessing sustainability within horticulture.
When all assessments have been completed, we visualize the score, like in the example shown. This makes it easier to compare the sustainability impact between product options. And when different materials are equally fit for purpose, we have a view on the other aspects immediately. That is how the Sustainability Compass scoring model shows which of the options is the most sustainable, helping us take the right decisions.
Continuous development on the Sustainability Compass
Since 2022, the Sustainability Compass (formerly known as Future Fit Framework) continues to be an integral part of our product development process for our horticulture portfolio. We assess all new raw materials, and products, against it to ensure suitable, responsible products for our customers. With sharing this sustainability framework for horticulture, we are committed to transparency. It ensures what we look beyond a single sustainable claim, like carbon, and always keep all aspects in mind.
Our team with Kekkilä-BVB has developed this transparent sustainability assessment tool to address environmental, social, and business aspects throughout the value chain of our products and raw materials.
This a unique and already practical sustainability framework to use within horticulture. A first of its kind in the horticulture business. To keep it relevant and implement new insights in the field of sustainability, it is also continuously being developed further.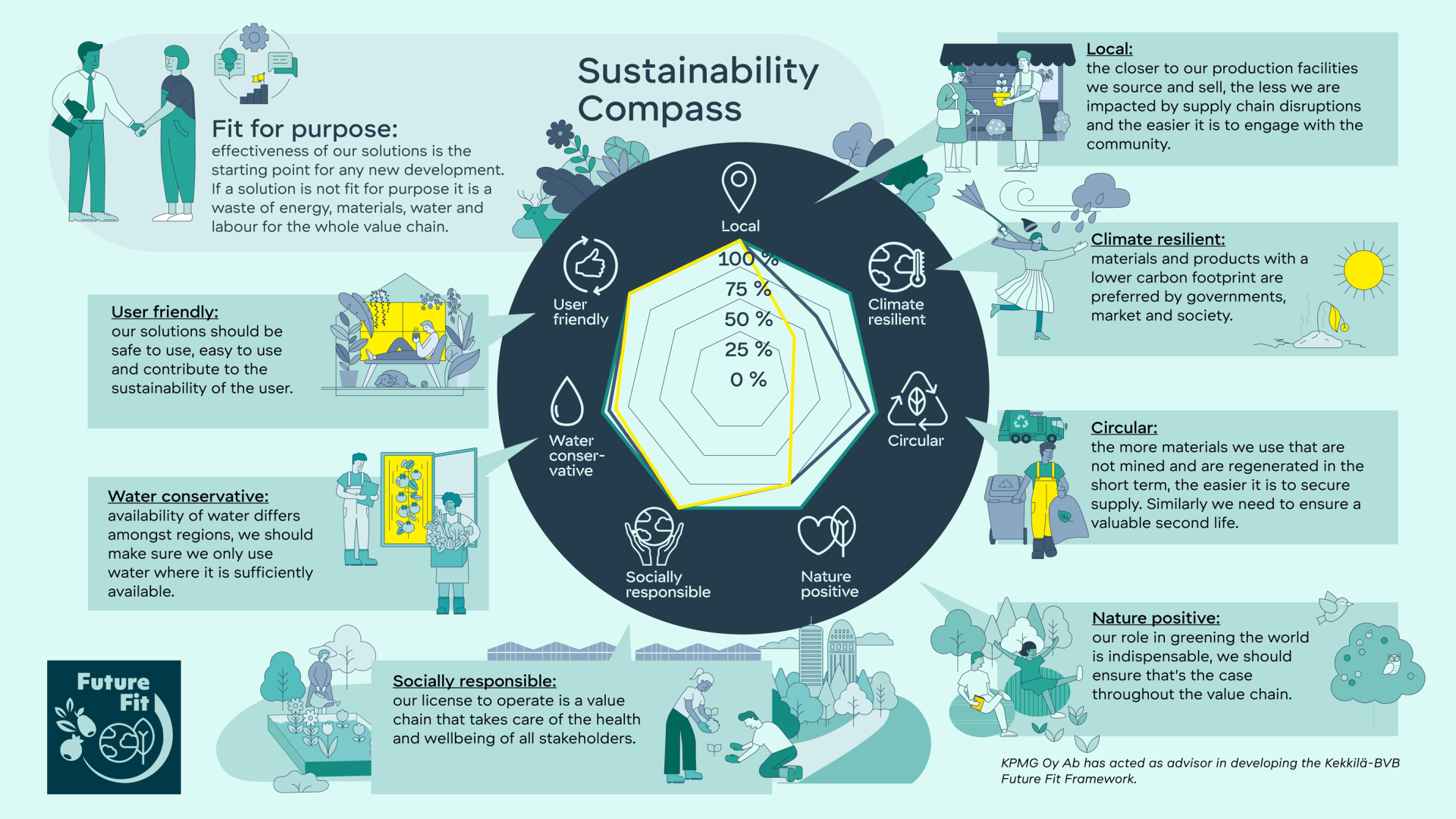 Sharing the Sustainability Compass
The development of this Sustainability Compass has been, and continues to be, a substantial amount of work. At the same time, we believe that by sharing this, it will inspire others within the horticulture industry, to join us on the path towards a future where plant-based food is affordable for all future generations.
Kekkilä-BVB Sustainability Compass by Kekkilä-BVB is licensed under CC BY 4.0
For questions, or suggestions for improvement, please reach out to Folkert Moll.