Rooftop garage Clausplein Eindhoven in Netherlands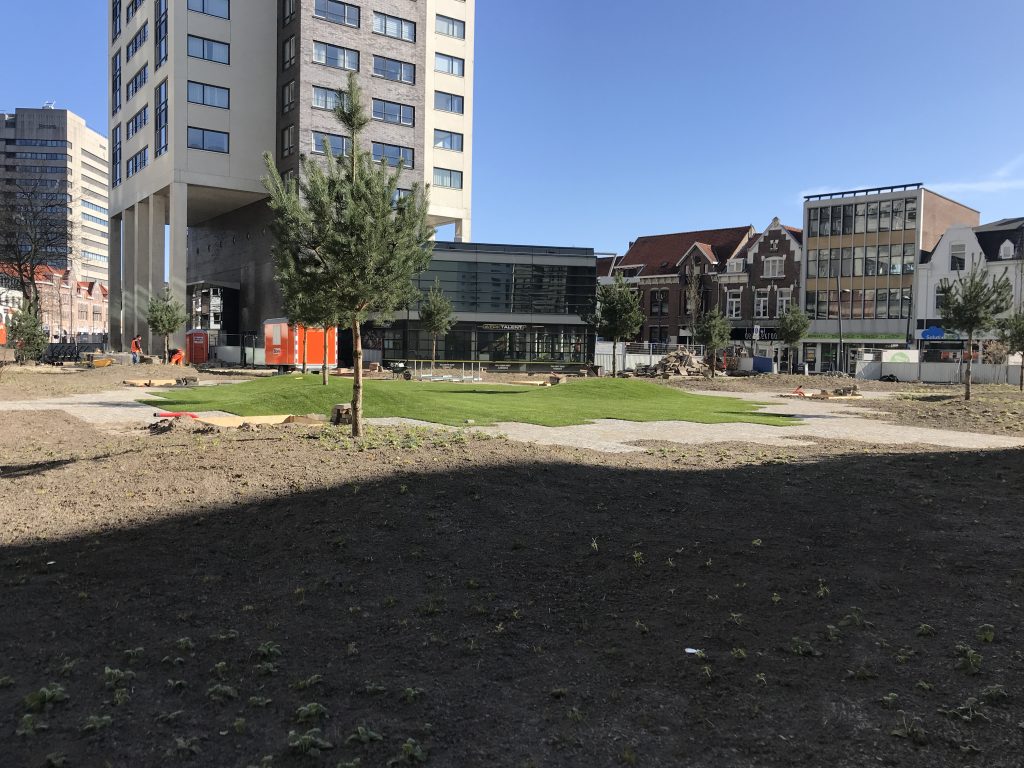 Background
Discussions about the redesign of a square on top of a garage in Clausplein Eindhoven in Netherlands was held for years between local residents, entrepreneurs and the municipality. The goal was to make the stone surroundings of  Clausplein a bit more green. The Clausplein is also the roof of a parking garage. In 2019 the municipal tendered for the best greening, a tender won by the green experts from Donker Groen. Optigrün was called in by them to supply a climate-adaptive roof system. Optigrün collaborated with BVB Landscaping.
Climate-adaptive roof system
The Netherlands is experiencing more heat waves then before, also more large rainfalls. When Vlijm Henn, Director of Optigrün Benelux, presented his idea about a climate-adaptive roof system, he offered a solution with a regulating effect; solving both water shortage and waterlogging. The challenge of the roof system was to find the right synergy between the retention layer and the substrate. This is how the roof system was an answer to their needs.
– Rainwater is collected in the substrate. When saturated, it leaks into a WRB (water retention box, ed.), an empty space of 15 cm high. Here, the rainwater is retained and, as required by the above-ground greenery, it is sucked up via capillary cones. As a result, the substrate is less likely to dry out and the vegetation can grow optimally, Vlijm says.
Vlijm had earlier experience of implementing smart flow control systems for roof gardens. Discussing drainage, there is a valve over the rainwater drain. A valve that is closed all year round, but can be opened. The municipality has then placed sensors in front of Clausplein to measure the moisture content.
– If a lot of rain is predicted, and a lot of rainwater is already stored, the valve opens and water is discharged towards a tank, so that space is made for the incoming rainwater and later the water can be pumped back during drought. A climate-adaptive design, therefore, suitable for very wet periods and for periods of heat and drought, Vlijm says.
Special roof garden substrate
According to Vlijm, the challenge in the design of retention roofs is the synergy between the retention layer and the substrate. The roof garden substrate should not be allowed to dry out, mud should not be allowed to form. Capillarity is also always an issue. Jarno van Veelen of BVB Landscaping looked at a special substrate for Clausplein.
– The substrate that now lies consists of very fine, organic material and has a better capillary effect and a greater water-retaining capacity than other roof garden substrates, Jarno says.
Read about our Urban Roof Soil
Optigrün and BVB Landscaping are currently working on the development of some new substrate products for various roof applications in urban areas. One of these are Urban Roof Soil, link here.
Please contact Jarno van Veelen for more information.