How can we increase and improve biodiversity in urban landscapes?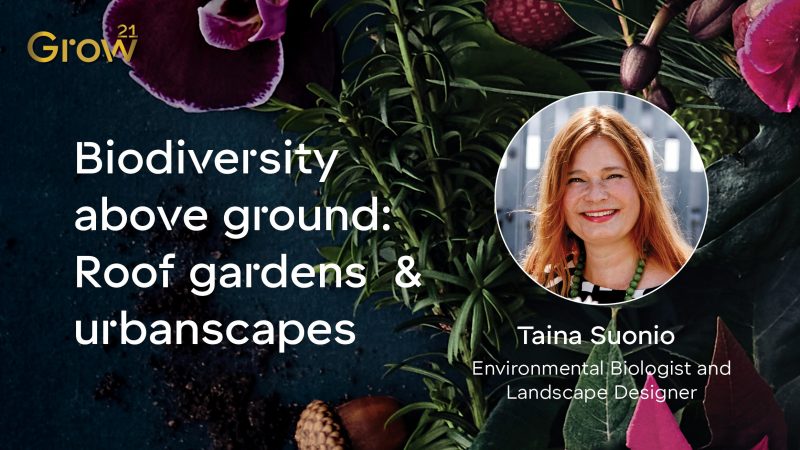 Environmental biologist and landscape designer Taina Suonio to present new research on roof gardens and urban landscapes at the Grow21 festival.
Biodiversity and healthy ecosystems provide us with clean air, fresh water, good-quality soil and crop pollination. This helps us fight climate change and adapt to it, as well reducing the adverse effects of natural hazards. Yet biodiversity has been declining at an alarming rate.
That is why securing biodiversity, building green areas, and recycling are more important than ever to the design of urban areas. What can our industry do to enhance the situation?
In her keynote at Grow 21, environmental biologist and landscape designer Taina Suonio presents fresh research from the University of Helsinki on how we can increase and improve biodiversity in urban landscapes.
Based on her research into policy instruments in Finland to promote vegetated roofs, Taina will discuss the benefits of securing biodiversity in urban environments – specifically by using green roofs – and how this offers new perspectives in green cities of the future.
Sharing experiences from her work as a horticulturist, environmental biologist, garden designer and researcher, Taina is uniquely qualified to address the practical realities of how best to create roof gardens, gardens and greeneries in urban settings.
Her notable projects include award-winning designs at the Chelsea Flower Show, the National Housing Fair in Vantaa, Finland, the "Greenest of the Green" apartments project, and the Barbican Centre Roof Garden in London.
Taina is Deputy Chairperson of the Association of Green Environment, Finland; Chairperson of the Garden Builders' Association (Puutarhanrakentajat ry), and a Member of the Executive Board, Scandinavian Green Infrastructure Association (SGIA).
To watch Taina's keynote, see our full agenda and register for the sessions at www.kekkila-bvb.com/growfestival