How to achieve sustainability success ánd create business value? – talking sustainability with Meiny Prins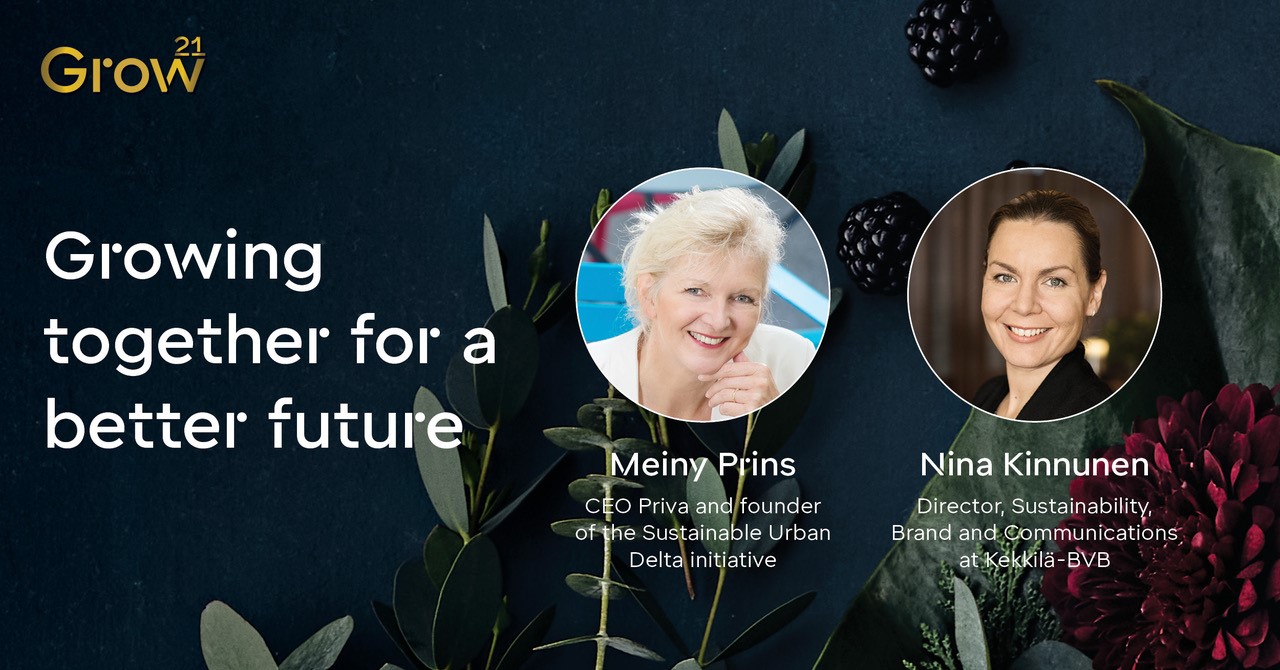 Meiny Prins and Nina Kinnunen to discuss about growing together for a better future at the GROW21 festival. 
How to start growing together for a better future?
Day 3 of the GROW21 festival focuses on future growing and digs into the changes driven by climate change on food production, distribution and consumption. How to prioritize sustainability efforts and create a better future for society ánd your bussiness?
Meiny Prins devotes herself to promoting business sustainability and international development of sustainable solutions in the horticultural business and the built environment. She is a much sought-after authority in this field. With her clear, inspirational message on sustainability, she bridges the gap between companies, governments and sectors.
Her company Priva supports other organisations with local and efficient food production, green and clean buildings and neighborhoods and minimal use of scarce natural resources like fossil energy and fresh water.  With her Sustainable Urban Delta initiative she's showing the world that green food producing urban areas create exciting new opportunities on a social, ecological and economic level. And it is not only possible, it is already happening!
During the discussion on Day 3 of the GROW21 event, Meiny Prins and Nina Kinnunen, will discuss and elaborate the sustainable choices, opportunities and necessities for a more sustainable future. Register now and learn how to achieve sustainability success by focusing on small steps forward combined with a collaborative mindset.
The discussion with Meiny Prins will take place online on Thursday Feb 11 2021. Check the full festival agenda and register for the sessions at www.Kekkila-BVB.com/GrowFestival