The Netherlands shows how it's done: the entire sector involved in sustainable substrate covenant
After a year of hard work, the Dutch government, industry, knowledge institutes, and an NGO signed a sector agreement at Kekkilä-BVB´s office in De Lier on the 18th of November on the approach to making potting soil even more sustainable.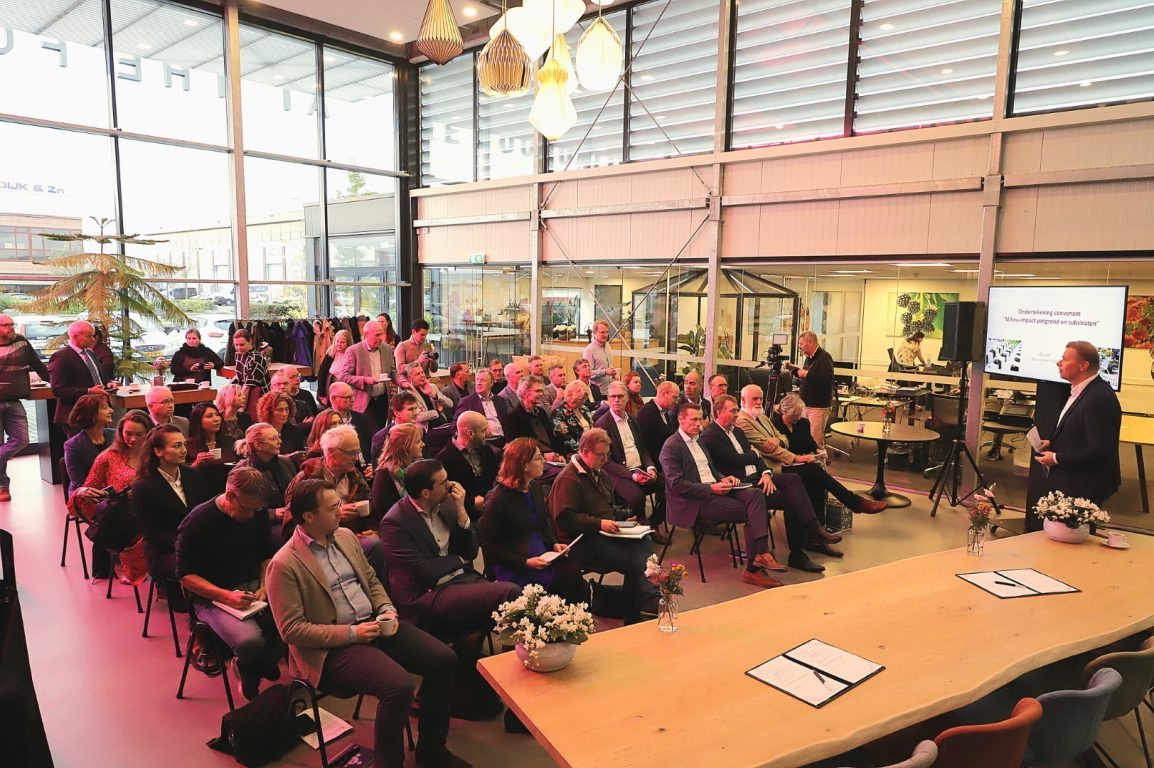 Potting soil and substrates play an indispensable role in the cultivation of food and ornamental plants and the greening of both private gardens and public spaces and thus people's well-being. Peat is an important component of potting soil, while peatlands are also important as a carbon sink. Prompted by a widely supported motion in the House of Representatives (Boswijk – Bromet July 2021), which relates to (a study on) the reduction of peat in potting soil, parties have now agreed with each other to accelerate the transition to more sustainable substrates. Because although only 0.05% of all peatlands worldwide are used to extract peat for horticulture, the substrate sector considers it important to use as many local and circular raw materials as possible for potting soil.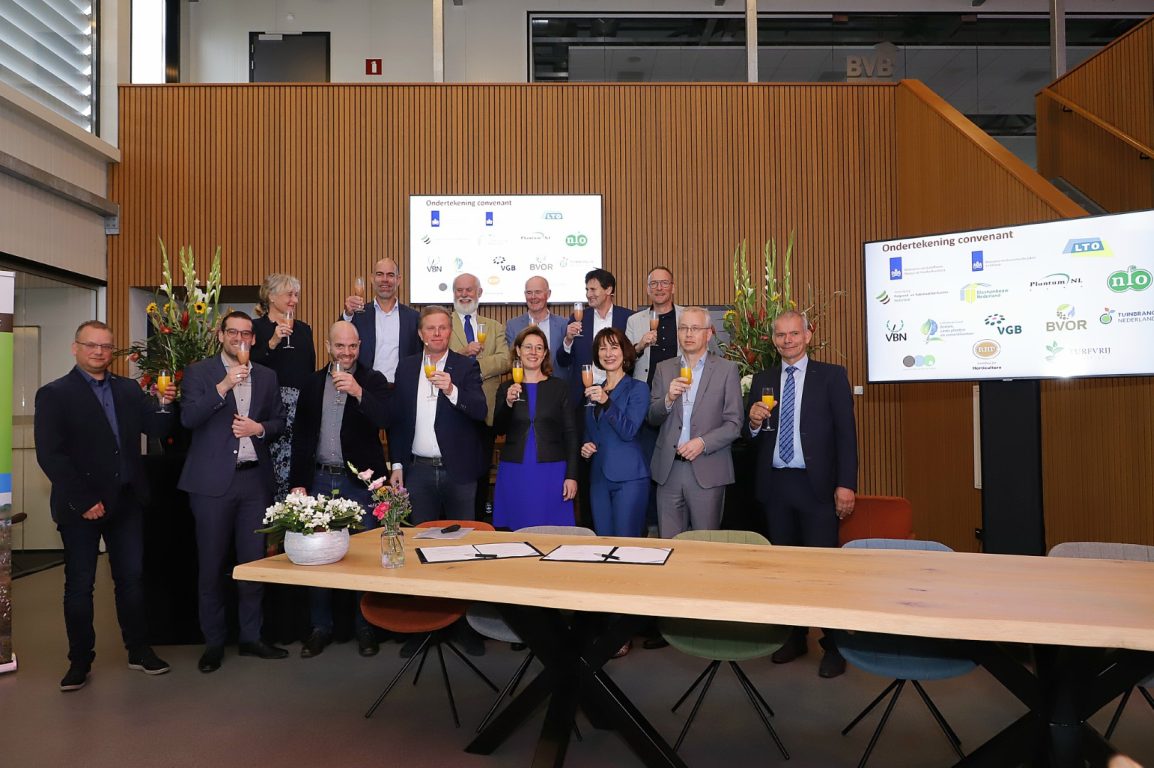 * The signatories of the covenant are: the Minister of Agriculture, Nature and Food Quality, the Minister for Climate and Energy, The Association of Potting Soil and Substrate Manufacturers Netherlands, the Department for Mushroom Growing of the LTO, the Department of Trees, Perennials and summer flowers of the LTO, Glastuinbouw Nederland, Plantum NL, Tuinbranche Nederland, Sector Organisation for Organic Residues, The Association of Wholesalers in Floricultural Products, Association of Flower Auctions, Dutch Fruit Growers Organisation, RHP Foundation, RPP Foundation, and the Peat Free Foundation
In 2020, the Dutch sector organization VPN and its members already agreed on ambitious targets for 2025. (https://www.devpn.nl/assets/files/beleidsagenda-1.pdf). These targets are also included in the sector agreement, with targets for 2030 and 2050 on top of that, to ensure continuous investment in further sustainability. For 2025, the target is to increase the use of circular raw materials (35% on average for professional use, 60% for the consumer market) and to double the use of compost to 600,000 m3. It has also been agreed for peat raw materials to use only 100% responsibly extracted peat (RPP label or equivalent).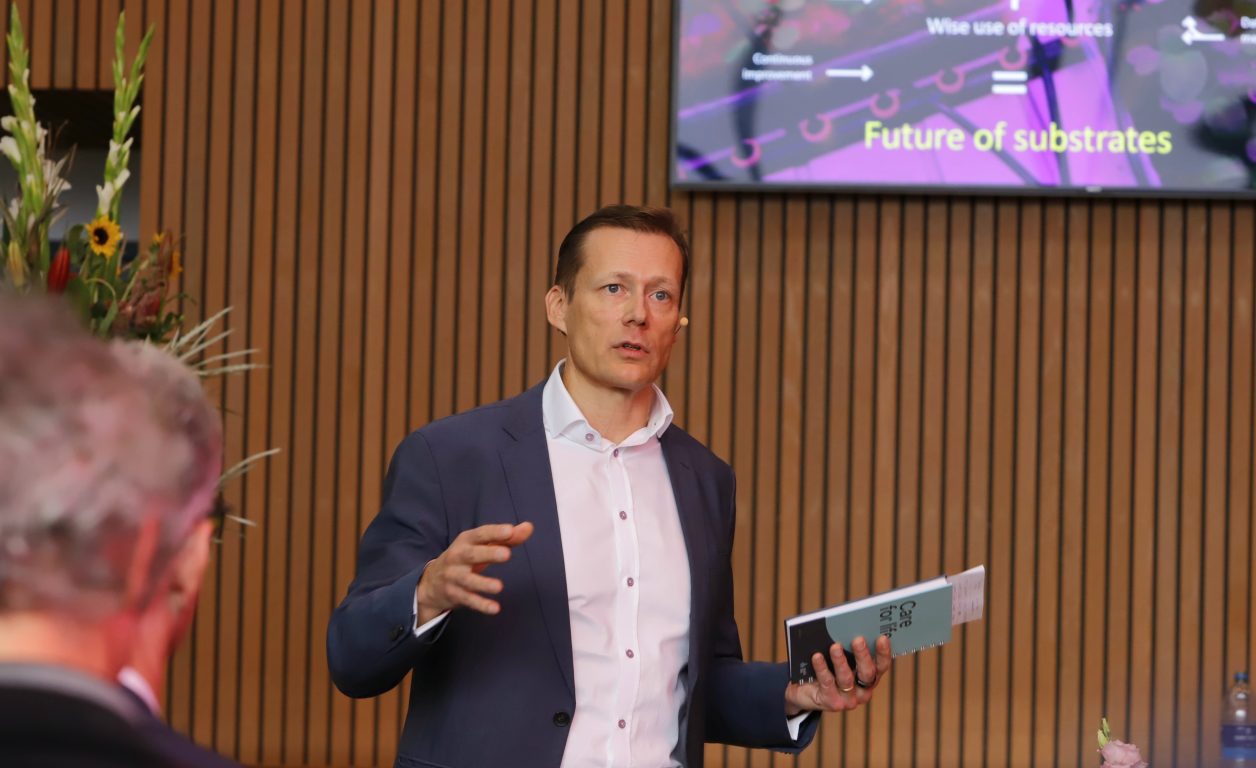 In his speech Vesa Tempakka, CEO of Kekkilä-BVB, stressed that future substrates must be fit for purpose to be sustainable.
For the sector to achieve these targets, support from the government is needed to ensure the availability of local and circular materials for substrates. Competition for organic raw materials is increasing and especially with the ongoing energy crisis a lot of valuable biomass is used for energy production. It is a big task for the Dutch government to support research on the quantity and quality of local circular raw materials, stop improper competition, create an international level playing field, and set European standards for circular raw material safety and quality, whilst ensuring horticulture and agriculture sector continuity. To have the commitment of the whole sector and its stakeholders to create even more sustainable substrates is a great achievement in these turbulent times.
For the official press release by the VPN, please click here.